Posts and testimonials from the media and visitors
Ciao magazine
Travelling in Aegina,
August 5 2008
Ostria: Tables right on the sand, exceptional Greek cuisine and the best sunset compose the scene of Ostria restaurant. Have a swim at the beach in front of our restaurant and then enjoy your coffee, ouzo and your meal. We recommend fresh fish, delicious salads with vegetables from the garden of the Marmarinos family, grilled meats, fried calamari, eggplants stuffed with mince, aubergine puree and mouth-watering fava.
Athens Voice
Summer Guide
July – August 2008
"Food, entertainment in Marathon at Ostria, right on the sand, with a lot of produce from their own garden."
Athens Voice
Travel Voice
Issue 220, July 10-16 2008
"Marathon, Ostria, anything your heart desires, which could translate to homemade stews, fresh fish, provincial pies and seasonal salads, all the while enjoying the sunset from tables that are on the edge of the water."
ΤΑ ΝΕΑ
Holidays in Greece,
Friday June 20 2008
"Ostria, with the deliciously prepared dishes, the variety of appetizers and seafood but also their own produce from the garden of the Marmarinos family, is one of the 7-8 recommendations for places and sites worth visiting in Aegina."
VIMAgazino
Giannis Zoumboulakis
Sunday July 9 2006
"
I like the fava in Ostria, in Marathon, Aegina. Column: Observers with attitude (about everything)
"
CLIK magazine
Extra issue,
Summer 2005
"Ostria Restaurant-Greek tapas bar in Marathon serving stews, incredible tapas and tables literally on the sand."
Kathimerini newspaper
A Feature on 'Travelling',
Sunday May 11 2003
"Ostria in Marathon, at water's edge, one of the suggestions for eating in Aegina."
Maria Katsounaki
Journalist

I wasn't interested in learning his surname. 'Mr. Kostas in Ostria' will never become 'Kostas' but neither is the surname needed, at least to me.
It is like Ostria, the walk from Vrocheia to this restaurant by the sea. For years now. If I think about it it's more than 20 years. My daughter was very young, she is now turning 27. It's as if she was only growing in the summers and Ostria was part of this development. The place has something familiar and healing. Like when you were little and you needed the freshly cut potato chips. When you come of age this dependence does not go, you just add more of them to it: the home made stuffed vine leaves made by Mrs Voula (Kostas' mother), the fava, the zucchini pie. It's like building a home out of tastes with walls and floors that make you feel safe. By now, over the years, Ostria has become like the corner you will run to, to hide and reveal yourself when you want, always the regulator and master of the game.
Ostria is part of a life ritual. I take my close friends for the first time so I can show them something that is 'mine', unchanged. There, I meet others I have known for years and as time goes by I realise that I cross paths with people I don't know but I could share with them the same table.
It seems a bit like an obsession. During the 20 minute walk from home to Ostria, I only have certainties. It is maybe one of the very few cases – I have to think hard for others – that the destination will not disappoint me. It's not only the tastes but the thoughts as well. Like a lifeline, a thread you take from the beginning – any beginning you remember, anything you believe is the beginning – and you move forward calmly.
Mr. Kostas, the owner, will be there, Christos, Panagiotis, and Vassilis for serving, many young and middle-aged patrons, pensioners from Greece and Europe with fixed habits, families with children, groups of 25 year olds and more. I see my daughter in sequential phases of her life, growing, maturing, grandma and grandpa who are no longer with us, Gianni who adored fava, Alicia and Niko, with the vibes of people you would always like to share a meal and have a conversation with, and Stavros who shares with me the same calm and solid dependence.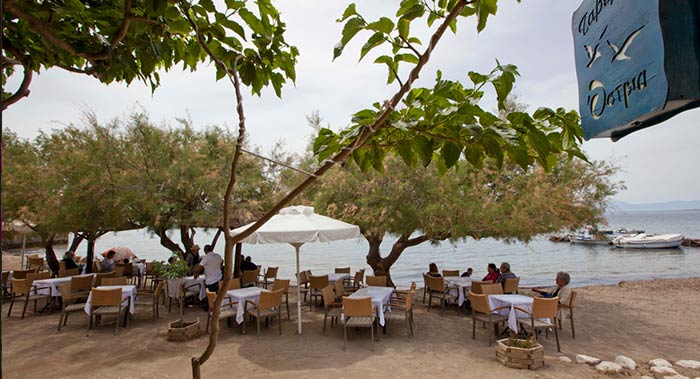 In Ostria, whether with laid out noisy tables with a multitude of people on the night of the Resurrection or with visitors exhausted by the heat and the tiredness of the city, the need is the same. It moistens like the southern wind, it does not carry you away to sudden changes, there is always a table waiting even when you haven't had the forethought to inform them you are coming and the place is stretched to its limits with people.
But for us, the old-timers, Ostria is a hallmark of life with the literal and symbolic meaning of the word. Couples and singles, in joy and in sadness, counting sometimes losses, sometimes loves, counting the glasses of tsipouro or how many stuffed vine leaves are for each one of us, counting anything but the time.
Because in Ostria time does not demand, does not press. It envelops and lasts. It defines but it doesn't narrow. It stretches, non binding in its familiarity, binding in its continuity.
It is 'Mr. Kostas' with no surname.
It is the phone call from the family of a British patron who was coming here for years on end. He died this year at an old age. 'We will come there to celebrate his life' his daughters announced to Mr. Kostas. Here, the wish spreads much like the celebration.